And the
"Blender"
has finished mixing.
The game
D.R.A.N.K
. is beginning.
[align=center]The players are the followers.
DemitriFlameGG as
Arin Demos
Darkhan as
Daemon
Lord Hayato as
Elc Ricolne
mikehendo as
Syndria
Grumlen as
Sydney
KuroKun1293 as
Feldar

Sword Dancer

Silphan
WX2Kenji as
Adwyn
[/align]
EDITED WITH ALL THE EXACT HOMES OF THE FAMILIES
[align=center]The
place of start
is Estia.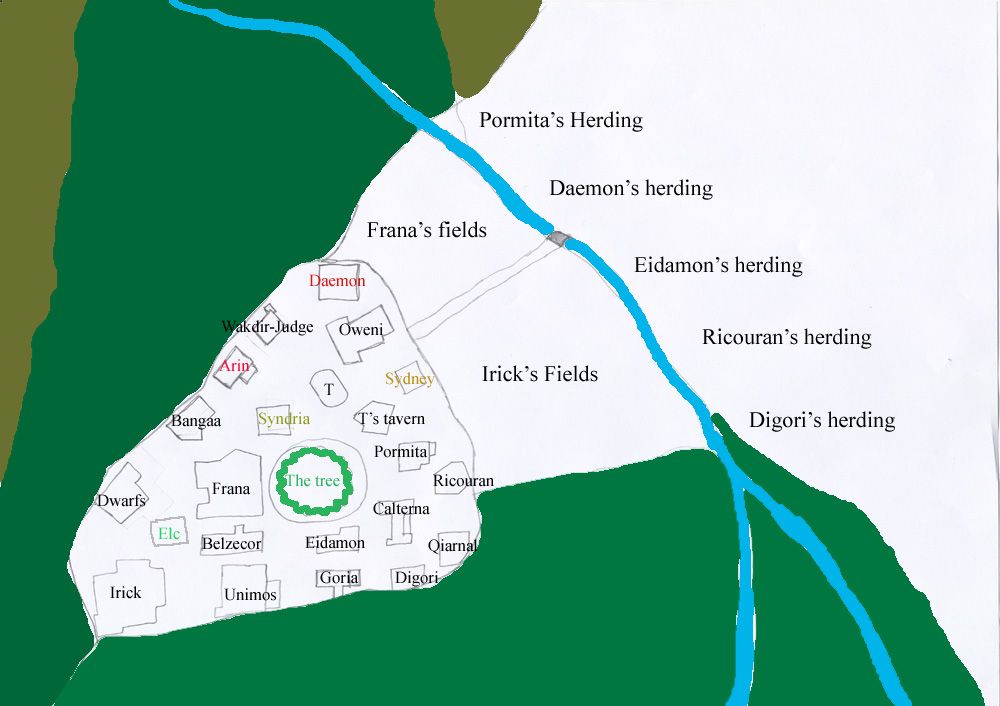 This is located in Forest Estia, getting passed from the river Ira.
Some miles to the south the forest ends and the sea starts.
On the west the Mountain range Kolts are standing still and tall reaching to the heavens. They are unlimited even when the viewer looks to the north or the south.
On the east there are unlimited ground full of grass.
To the south some miles afar "The cave" stands silent and still. Ages ago a person entered the place and never returned. He was the last to attempt it. "The cave" was left alone ever since. [/align]
[align=center]The
period
is the start of spring. The autumn is still showing its left-signs but the first flowers have blossomed.[/align]
[align=center]The
time of start
is some minutes before sunrise. The village is slowly getting awaken. Hunting, fishing, sherping and farming cannot be done by themselves.[/align]
[align=center]
Start living
[/align]
The weather is calm and semi-hot. After the rains of autumn the earth have finally start to show her colourful face. The atmosphere has been lifted by the heavy humidity and the waking is far easier, even for the older ones. The glorious first sun hasn't yet aroused at the horizon. But the light of it has turned the sky into a dark blue, instead of the blackness of the night.
The Village slowly awakens and the morning lights are easily seen, being turned on, from the windows of the houses…
[EDITED, FAMILIES OF ESTIA INSERTED]
Later on are the families that live on Estia with you. At first the name of the family is said and then each of the family's members is named.
On each member you can see its position to the family (what she/he is, a mother, father, son etc} Last you can see their job on Estia, for those that have a job
.
[align=center]THE FAMILIES[/align]
The Bangaas
:
Alwen
: father, 38/fisherman
Nealor
: mother, 39/fisherman
Dorvar
: son, 18
Belzecor
:
Lilian
: mother, human, 44/hunter
Adan
: son, human, 25 /fisherman
Calterna
:
Konir
: father, elf, 57/farmer
Argia
: mother, human, 52/farmer
Arogo
: son-twin, half elf, 24
Kiola
: daughter-twin, half elf, 24
The
Dwarfs
:
Gereo
: father, 83, gray hair/beard, brown eyes
Grian
: son, 61, white hair/beard, blue eyes
Eidamon
:
Stokra
: brother, tarutaru, 25/shepherd
Umata
: sister, human, 22/shepherd
Frana
(landowners):
Goria
: grandmother of Feido side, Viera, 57/fisherman
Grandfather of Feido deceased from old age: Elf
Feido
: father, 36, elf, medium height, short blue hair,
red eyes/hunter
Ilvana
: mother(sister of Drowni Irick), human, 34,
short gray boyish hair, gray eyes
Gorca
: daughter, Viera, 17, red eyes
Aelon
: son, elf, 15, light gray hair, blue eyes
Irick
(landowners):
Drowni
: husband, human, 58, gray hair, blue eyes,
very short
Ilina
: wife, human, very tall and thin, long white hair,
white eyes
Oweni
:
Picri
: father, half-elf, 52, face with lines, white hair,
black eyes/farmer
Delacour
: mother, dark elf, 49, long to waist
black/green hair, green eyes.
Kioldi
: son, dark-elf, 27, green-reddish hair, black
eyes/hunter
Aspil
: son, human, 22, bald, green eyes/fisherman
Dacota
: daughter, dalf-elf, 13, red hair, green eyes,
short for her age, very fast
Pormita
:
Azero
: great-grandmother, dalf-elf, 94, short, dark-red
hair/eyes.
Stork
: great-granddaughter, human, 32, black hair,
brown eyes, short/hunter
Pelac
: "friend of Stork", female, dark-elf, 35/shepherd
Qiarnal
(Burmecians):
Miolok
: husband, 34, wearing a large red hat/hunter
Kzila
: wife, 37 /farmer
Ricouran
:
Reival
: father, human, 38, brown hair, black eyes,
medium height/shepherd
Colli
: (deceased to birth) mother, elf, green eyes,
blond hair, tall, thin
Collir
: son, human, 21, brown hair, green eyes,
medium height, thin/hunter
Unimos
:
Popia
: grandfather, elf, 58/fisherman
Garnia
: grandmother, dalf-elf, 60/fisherman
Tedona
: father, human, 35/fisherman
Oist
: daughter, dark-elf, 14
Calk
: son, elf, 10
Wakdir
,
Adia
– The
Judge
: 46,female/fisherman
[EDITED-inserted 3 members i forgot...to write
]
T
Mr. T:
grandfather, tarutaru, 59/
tavern keeper
Tisla:
granddaughter(twin), tarutaru, 16
Sitla:
grandson(twin), tarutaru, 16
Persecu, Digori:
human, 45/
shepherd
Last edited by
lifedeath
on Tue Dec 20, 2005 3:36 pm, edited 5 times in total.
Give Life a real.....

viva la photobucket